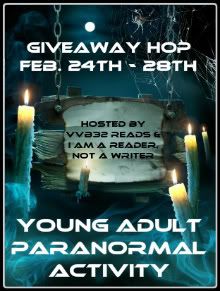 Young Adult Paranormal Activity Hop!!
I have one great giveaway today and there will be one winner.
Giveaway:
One paperback copy of 'Everneath' by Brodi Ashton to giveaway to one person!
This giveaway is open on Friday 24th February and closes Teusday 28th February at midnight. The winner will be announced on Wednesday 29th Febuary.
It's open to everyone!
•entrants must be 13 years of age or older
•contest deadline is February 28th, 2012 at midnight
•contest open
Internationally
•
ONE ENTRY PER PERSON!
•check out my
Contest Policy
Fill out this form to enter:
Form Closed
Check out other people on the hop as well: